Telescope Pricing
HOME Telescopes Mirror Cells Custom Projects Photos Contact
---
"Sweet Sixteen", 16" f/4.0 custom Newtonian
Features include: Lockwood Custom Optics primary and 3.1" secondary, Feathertouch focuser, JP Astrocraft six-point mirror cell with whiffletree edge support featuring ball bearing rollers at the contact points, rocker mounted batteries and charger, Astrosystems light shroud and secondary holder, Telrad finder, knurled brass collimation knobs, three-vane spider, matching primary transport/storage case, integral wheels or wheelbarrow handles, and choice of finish.

A full range of options including the ServoCat go-to systems are available for these custom built telescopes.

Please email for a quote.

---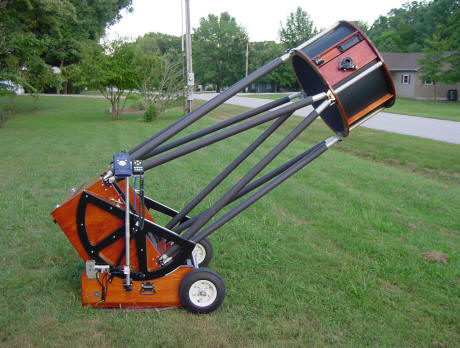 "Twenty-five", 25" f/4.0 custom Newtonian
Features include: Lockwood 1.7"-thick primary, 4.5" secondary with enhanced coatings on both mirrors, feathertouch focuser with SIPS , ServoCat and Argo Navis with Catstalk and powered ground board, integral wheel transport system plus a set of wheelbarrow handles with wheels, JP astrocraft 18 point cell tilt out cell with spherical bearing triangle flotation and 45 degree roller whiffletree edge support, brass collimation knobs, primary cooling fan with switch and speed control, heavy duty positive locating truss system, Astrosystems light shroud and secondary dew heater, Dewbuster Big Dob dew heater controller, Telrad finder, mirror transport box.

Please email for a quote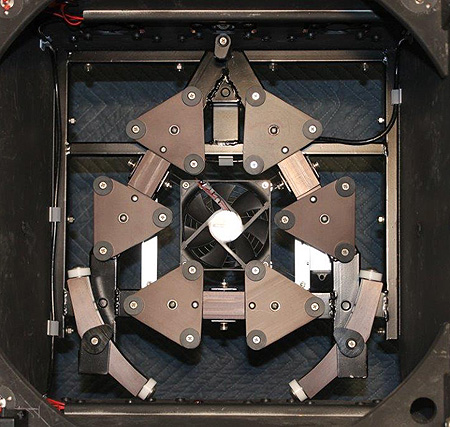 16", 18-point cell
---
Pricing on JP Astrocraft telescopes and mirror cells will be quoted on a custom basis. Please contact us for quotes.